If you want in on the blockchain trend, investing in NFTs is a good place to start. These digital assets are revolutionizing industries and are only just starting to pick up steam. If you want to get involved with NFTs, an NFT app is the easiest way to do so. The NFT apps reviewed act as your e-commerce gateway into the NFT craze.
To ensure you're getting the best possible experience, it's important to find an app that suits your needs. In the following article, we will compare and contrast the most popular NFT apps to help you find the right one for you.
What Are NFT Apps?
With an NFT app, anyone can mint NFTs, buy, sell, and generate passive income from digital collectibles. This is a revolution in blockchain technology, as it allows people to store valuable data easily on the blockchain.
NFT apps allow users to invest in NFTs at their own pace. With the ability to collect and trade rare tokens, as well as the ability to use them in a flexible purchase or sell them for profit, NFTs have become a hot investment opportunity for both new and seasoned traders.
With this technology, the average investor can now get into the NFT market without having to purchase an expensive token. NFTs are being seen as the key ingredient in the fast-approaching MetaVerse and NFT apps are considered a vehicle for the digital revolution that's set to transform our world.
How Does an NFT App Work?
NFT apps make it easy for NFT enthusiasts that are interested in buying or selling NFTs. They work like brokers, agents, and intermediaries, charging fees for their services. Usually, the seller pays the fee, but sometimes the platform will also assign it to the purchaser. A good NFT marketplace will support NFT trading and minting.
Factors When Considering The Best NFT App
The NFT space is becoming increasingly crowded with new platforms and apps that focus on both showcasing and allowing users to acquire these NFT projects so, how does an NFT enthusiast decide which NFT app is the right one?
Safety
Because newer NFT marketplaces are still growing, they face the risk of becoming a haven for impersonators. Scammers can use fake shops to replicate real brands and steal from unsuspecting users — as seen with the recent ETH-based scam that hacked into unsuspecting users' accounts and drained their crypto funds. For this reason, you would want to ensure the verification process is tight to lock out unscrupulous creators and general users.
Easy of Use
Blockchain technology is complex, but when it comes to ranking as a popular NFT app, it shouldn't be. A smart interface that provides users with a clear understanding of the process behind each step of the transaction will enable novice users to feel confident about using the NFT app.
Collections Available
Both quality and popularity play a role in NFT collectors deciding rather or not to invest. Having a popular NFT collection is just as important as having a well-curated product selection — maybe even more so, given the limited selection (and limited supply) for many high-quality NFTs.
Wallet Compatibility
The ecosystem of the NFT marketplace needs a platform that can bridge the gap between your digital and fiat currencies. As such, you need a platform that can support any major crypto wallet and integration that is seamless and secure at the same time.
Also, if possible, when funding your NFT marketplace account, you would want to have a system where users can choose to connect using credit card networks, instead of just mobile wallets for payments.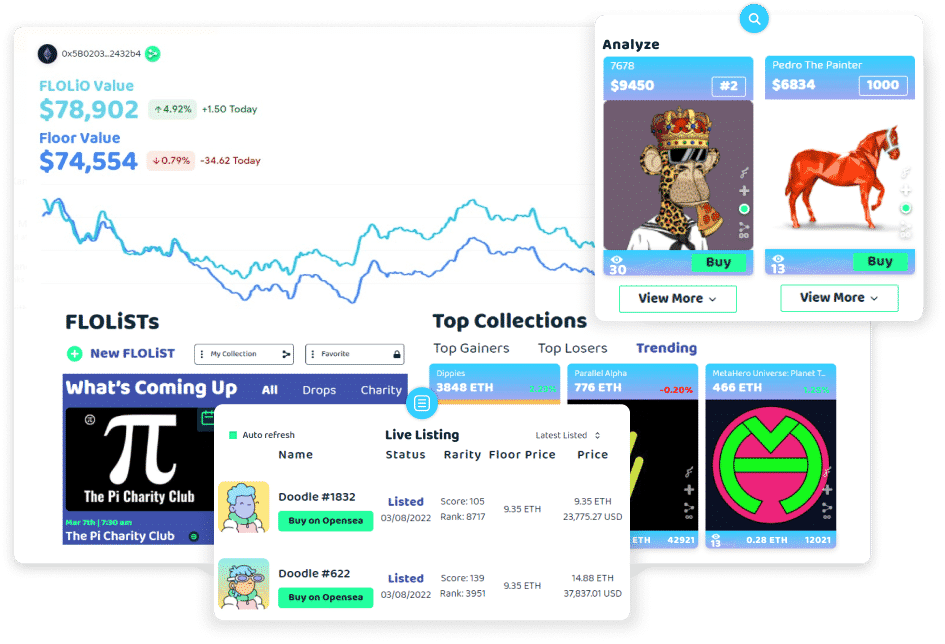 Wisdom within Web3
One place to manage all your digital assets
We combine data across marketplaces, metaverses, games & chains enabling communities to continue expanding the ecosystem.
Top NFT Apps
As the NFT market continues to grow, more app developers are adding their support. These NFT apps mentioned cater to all aspects of digital assets — they can be used to create, mint, sell, flip and trade NFTs.
Top NFT Trading Apps
These NFT marketplace apps make it easy to buy and sell non-fungible tokens (NFTs) — meaning you can now trade digital art, collectibles, and more. The first step is to fund your wallet. Using a cryptocurrency wallet is the most straightforward way to purchase NFTs.
The majority of non-fungible tokens are purchased with Ether, the native currency of the Ethereum network. However, other coins such as Enjin (ENJ) are also accepted on popular NFT marketplaces.
Nifty Gateway
Nifty Gateway is a new platform for high-end NFT collectors. No boring NFTs here — only the best and most unique NFTs from around the world. NFT Gateway focuses on premium NFT drops from famous artists and creatives such as Steve Aoki and Grimes. The Nifty Gateway platform brings together the best of what blockchain has to offer.
Nifty Gateway is a key piece of the Gemini crypto exchange. Trading crypto in a secure and regulated environment is crucial for traders of all experience levels. Nifty Gateway makes it easy to convert your cryptocurrency back into US dollars — taking the stress out of the process for inexperienced traders. Transaction fees are $0.30, with a 5% fee charged by the sell-side.
f you're based in the US, you'll be able to use a credit or debit to buy NFTs — however, if you're living outside of the US, you're going to have to make your purchase using the crypto stored on your Gemini account
NFT LaunchPad
As one of the top digital art marketplaces, NFT LaunchPad lets creators launch their NFT projects on one convenient platform. The NFT market is continually growing, and NFT LaunchPad is adding new creators almost every day. Initial users have raved about the ease of use, and it's already proving to be a valuable tool for artists looking to distribute their work.
Launched in March 2022, NFT LaunchPad has grown to be the first go-to place for users to buy, sell and create NFTs. The platform's simple user interface and entirely frictionless experience allow artists of all skill levels to access its wide range of projects. With a few clicks, you can discover a project that sparks your imagination!
Built by a team of experienced developers and business executives, NFT Launchpad aims to support established blockchains as well as new projects in their infancy. Currently, the marketplace supports Binance Smart Chain and Polygon but will be integrating more in the future.
Ideal for creators who wish to mint NFTs in various formats, NFT LaunchPad gives its users plenty of options — from selling their creations on the marketplaces that exist today to creating a completely new NFT ecosystem. Built by Finixio and supported by several notable companies, NFT LaunchPad provides its users with the best experience for distributing and selling their NFTs.
Binance NFT Marketplace
The Binance Smart Chain platform is one of the most popular cryptocurrency exchanges in the world and has been around since 2017. It's responsible for about $3 billion USD worth of Bitcoin trading volume daily — no one can deny its reliability and importance in the crypto market.
The Blockchain-based company has been a pioneering force within the cryptocurrency community since its inception and hopped onto the NFT bandwagon as the industry gained traction.
The idea of a decentralized exchange has been around for a while in the crypto space. But it's only recently that mainstream adoption could be seen with the emergence of the Binance NFT marketplace, which is set to be one of the most popular decentralized exchanges in the market.
Binance launched a premium event auction titled Genesis on June 24th, 2021, which saw thousands of people lining up to get in on the NFT collection. The Binance NFT marketplace boasts high liquidity thanks to its excellent blockchain infrastructure and community.
Binance's main feature is its own blockchain, called the Binance Smart Chain. The Binance Smart Chain is a blockchain that can natively transact Bitcoin, Ethereum, and Binance Coin — all of the cryptocurrencies listed on Binance. This means that the platform has its own coin (BNB), which is used to power most transactions and fees on the site.
OpenSea App
While the NFT space may be flooded with the names of famous exchanges, there's one name that stands above all others: OpenSea.
OpenSea is the world's largest NFT marketplace. While there are many big-name NFT platforms, none can compare to the usability, security, and endless features that the OpenSea app offers.
OpenSea was founded after Devin Finzer and Alex Atallah saw the rise of the CryptoKitties NFT marketplace. It's the first-ever open marketplace for any non-fungible token on the Ethereum blockchain. With over 140,000 registered users from all across the globe, Opensea is one of the largest marketplaces for items to date.
OpenSea does more than just make ambitious visions a reality. They also offer an e-commerce platform for NFTs, making it easy to buy and sell digital goods like digital collectibles and virtual items. Their platform is safe and secure, with all of these properties supported by the OpenSea protocol.
The OpenSea app is currently in browse mode only, allowing users to see all the NFTs being traded on the App. Users can filter and sort by price, highest markup, lowest markup, time since last trade, or, creation date. They can also form NFT collections, which are lists of digital assets that can be saved, managed, and shared with others. If users want to buy NFTs, they will have to do so via the website.
Rarible
Rarible's platform is a revolutionary one. With a sleek design, intuitive UX, and excellent customer focus, it is quickly becoming one of the most widely used NFT marketplaces currently on the market. With over 460,000 users, it has a massive community that is growing continuously.
Rarible has a tokenized economy that provides the highest level of security in the art world. Rarible's platform uses smart contracts on the Ethereum blockchain to ensure that transactions are both secure and transparent — artists earn more receiving payment immediately after a sale, eliminating other fees and intermediaries.
Rarible uses a DAO governance model to allow users to improve the platform. Users can vote on system upgrades and curate featured artwork and creators on the platform, with voting power determined by the amount of RARI tokens they own. Its native coin RARI can be acquired through marketplace mining and on major crypto exchanges.
Rarible aims to design a complete trading platform and exchange that will be used across multiple crypto markets. A crypto-to-crypto method of trading is essential to the future of cryptocurrencies, and Rarible's platform will help facilitate this process. The team plans on creating an open-source cryptocurrency exchange that will implement smart contracts and decentralized order books
Axie Marketplace
NFTs are revolutionizing blockchain gaming, and one of the primary success stories is Axie Infinity. As a digital game that lets users breed, trade, and battle creatures called Axies, it's a prime example of how blockchain can be used to change the gaming experience. NFTs are changing the way we think about digital games and Axie Infinity perfectly illustrates this.
Most NFT-only marketplaces are focused on small community projects, but the Axie Marketplace is for a highly anticipated game. That's because Axie Infinity is more than just an app — it's an entire ecosystem of games, merchandise, and real, virtual, and digital assets that all play together. The Axie Marketplace recorded over $3.5 billion in trades between users in 2021 alone.
Axie Infinity is a game that revolutionized the way gamers perceive in-game assets. It's safe to say that Axie Infinity paved the way for countless other games to succeed in the P2E market — and it remains the most well-known and widely played game on the Ethereum Network. The team behind Axie Infinity has been very transparent with their community, providing frequent development updates in addition to providing clear explanations of all important changes.
NBA Top Shot Marketplace
The latest sports NFT app to catch fire is NBA Top Shot. It gives sports fans an engaging way to get their hands on official in-game clips of this season's National Basketball Association (NBA) finals, and some of its hottest stars. All purchases made go toward NBA Top Shot's growing prize pool — which is distributed every quarter — to be divided amongst the app's users.
NBA Top Shot has been a financial and critical success due to the platform's ability to create a user account. With a wide variety of payment options, users can find an option that suits their needs. The interface is also customizable, with the ability to give NBA Top Shot a brand image that fits your store's aesthetic. NBA Top Shot has been a financial and critical success due to the platform's ability to create a user account.
In addition to the traditional Ethereum token, the NFT platform also supports other payment options. For example, users can pay for gaming clips with a crypto wallet, user-generated Flow wallets, or credit cards.
The popularity of NBA's Top Shot NFT app has been spectacular. Although its release was recent, it has already generated a lot of sales thanks to the NBA community adopting it. And, with more members joining all the time, it is safe to say that the success will continue.
With over $710 million in total NFT purchases and more estimated NFT sales to come, the new, interactive version of NBA Top Shot is better equipped than ever before to provide players with a smooth gaming experience
Top NFT Creator Apps
The NFT creator apps are exactly as they sound, apps for creating NFTs and assets on the blockchain. These apps are specifically centered around creating NFT-based assets and make it easy for NFT creators to create a digital asset for their project in just a few steps.
They are ideal for both new and experienced investors, as the functions allow for NFT creators to create new NFTs from their devices to their user's devices.
NFT Creator
The NFT Creator app is the only tool you need to make a seemingly professional NFT. There are plenty of customization options available, ensuring that regardless of skill level, artists can generate high-quality NFTs. The NFT Creator lets you create high-quality digital art without any previous experience in graphic design.
NFT creator lets you make your own custom NFT trading card. It's a breeze to make and it's super fun as well. Whether you want to make sports cards, sneaker cards, Pokémon cards, or even award cards, the NFT creator can do it all. If you're looking to create something truly unique, such as an exclusive trading card that fits a niche audience, designing your own NFT is key.
Moreover, NFT Creator is a free app that provides in-depth functionality for creating and managing virtual goods. With NFT Creator, artists can create and sell their own NFTs without the need to use external marketplaces. The tool is easy to use and allows you to create NFTs in just a few minutes. Moreover, NFT Creator is a free app that offers in-depth functionality for creating and managing virtual goods.
Top Cryptocurrency Exchange Apps
Crypto.com NFT Marketplace
Crypto.com is one of the leading crypto exchanges, one that's been around since 2021 and has ten million users. Its NFT marketplace has seen resounding success since its launch, having hosted several high-profile and popular blockchain projects. Crypto.com's NFT marketplace features a diverse variety of products, ranging from art to celebrities to gaming, music, and even NFT collectibles.
Crypto.com is an exchange that has become popular among NFT traders, with several successful NFT drops to its name. Founded in 2021 and currently serving over ten million users, Crypto.com offers a wide range of services, including crypto-to-crypto trading, a crypto wallet sharing service, its own NFT marketplace, and a newsfeed covering the latest developments in the blockchain space.
Crypto.com is making it easier than ever to invest in NFTs. One of the biggest issues with investing in blockchain-based assets is that they're not always easy to purchase — and Crypto.com is looking to change that. The platform offers several buying options, including debit and credit card payments, bank transfers, and, crypto purchases (with a fee).
The NFT marketplace is easy to navigate and open to everyone. As the first major blockchain project that uses non-fungible tokens (NFTs), Crypto.com has already collaborated with several influential names, including Snoop Dogg and Boy George, to develop a healthy community and increase awareness of the brand. In addition, Crypto.
Crypto.com makes it easy to find and buy NFTs that you want to invest in. Its NFT marketplace allows you to buy and sell items directly from your phone — making it easier than ever to pursue your interests and make money in the process
Coinbase NFT
In 2012, Coinbase established itself as one of the first bitcoin exchanges in the world. Since then, it has been seen as a benchmark for other cryptocurrency exchanges to follow.
Coinbase is working to create a new kind of finance, one that improves the way we handle money, keeps track of our finances, and makes it easier for us to work with others. It is already helping people across the world to use cryptocurrencies to make purchases — as well as providing businesses with an e-commerce tool that makes it easier for them to accept payments in Bitcoin, Ethereum, Litecoin, and, more.
The entry of coinbase into the NFT space was much anticipated by the community. The organization finally announced its intention to launch an NFT marketplace in October 2021.
Although the idea of a crypto-collectible marketplace has been around for some time, it's only now that this project is slowly coming to life. Coinbase announced the first beta version of its digital collectibles marketplace in April 2022— with many users waiting for its launch.
Several weeks before the announcement, the company asked its users to sign up for access to the NFT marketplace — marking a milestone for both the company and the blockchain community as a whole.
The marketplace is already a popular spot for collectors to sell their NFTs — with easy-to-use tools and intuitive discovery features, it's no wonder why. With its clean and modern design, the marketplace is the perfect solution for users interested in buying, selling, or trading digital assets.
The NFTs have been designed to allow users to leave comments — a feature that is still being worked out. In the shop tab, fans can buy NFTs to support their favorite artists. The platform has promised several upgrades and features which are still being worked on for inclusion in the beta version soon. Reddit is already looking into implementing this feature.
The Coinbase NFT will be available through the Coinbase Wallet. Users can now send and receive ownership of any NFT from their own Coinbase accounts, as well as create transactions to buy and sell tokens on the growing number of marketplaces supporting ERC-721.
Best NFT Apps for Mobile Devices
There are some great NFT apps out there for use on mobile devices that make it easy to create, mint, and trade NFTs. The minting process – registering an NFT on a blockchain – is becoming simpler all the time.
More and more apps and platforms are offering accessible UX design that makes it easy for newcomers to get into the world of cryptocurrencies. And other apps simply enable you to browse and collect your favorite NFTs. So whatever your interest in NFTs, there's sure to be an app that's right for you.
Meta-Mask
One of the better NFT wallets to purchase NFTs, Meta-Mask is a must-have app that lets you buy and sell NFTs securely. Not all mobile apps are the same, after all, each with its own specific payment preferences. To store and trade your NFTs, you need something like Meta-Mask.
MetaMask is an Ethereum plugin that lets you interact with the Ethereum blockchain — allowing you to buy, sell, and send cryptocurrency. It's a seamless experience on your browser, with MetaMask running in the background, meaning that you don't need to install and manage any software. MetaMask contains only a private key and your crypto wallet address — it's up to you whether or not to disclose these details when creating a transaction or signing into websites.
The Ethereum Wallet can be used for more than just holding and trading Ether tokens; it doubles as a great way to store your ERC-20 tokens. It's your one-stop shop for everything digital asset-related, giving you access to a wide range of wallets that are compatible with your devices and operating system. The goal is to build a DAPPS ecosystem with a fast-growing mobile market.
Enjin
Enjin is a fully-featured NFT/Crypto wallet that can be used for gaming, social, new economy, and other digital collectibles. Enjin's technology is currently used by over 250,000 users, with over 850,000 user registrations in the system. Enjin has also integrated wallets into Minecraft with over 10 million downloads.
Enjin has a ton of bonuses associated with it — in fact, one of its biggest draws is that it's so generous with its features. Its user interface (UI) is a joy to use, and it knows how to keep you converting your currencies easily on the fly. It also has an impressive number of security measures in place, which is a big plus for users.
Enjin is one of the strongest e-commerce platforms in the blockchain space. Already, they're one of the most used crypto wallets on mobile with over 7 million users and more than 50,000 online stores. With the release of the Enjin Coin smart contracts, they're placed to become even bigger.
Curate
The first major NFT mobile app built on Ethereum is Curate. Curate offers a new way to discover and collect art across various categories and has the support of many major artists, galleries, museums, and institutions. Another nice feature is that Curate is compatible with all web browsers on iOS, Android, and desktop.
Curate is the world's first and only gasless token creation platform. It's a positive change in the industry, as the new model of minting tokens doesn't involve paying any fees to the marketplace. This can be a game-changer for NFT sellers — without any gas fees, your profits don't get eaten up by the costs of running an on-chain transaction!
Curate Network is one of the most promising and exciting projects in blockchain technology today. Every token has its own unique use case, which is designed to make it the main currency of its respective market. Through the use of smart contracts, developers will be able to create new tokens without having to code from scratch.
How to Use an NFT App
For this explanation, we'll be using Crypto.com. You can buy NFTs on Crypto.com with no fees and via credit or debit card. If you follow these four steps below, you'll be able to purchase an NFT in a matter of minutes with crypto in your wallet:
Step 1 – Open a Crypto.com NFT Account
Welcome to the Crypto.com NFT Marketplace! To create an account, simply click "Sign Up" and enter your full name, a valid email address, and a desired username and password. With your new account, you'll be able to explore and purchase one-of-a-kind digital assets easily and securely.
Step 2 – Verify Account
The best way to verify your Crypto.com NFT account is to link it to your existing Crypto.com account. If you're not already a member, you can sign up for an account by entering your mobile number in the settings menu. Once you have an account, you can verify it by clicking on the link that Crypto.com will send to you via email or SMS.
Step 3 – Explore NFTs
NFTs are currently only available through the web-based app, but Crypto.com plans to integrate the NFT marketplace into the Crypto.com app soon. In the meantime, you can browse through NFT collections and click on the listings that interest you.
Step 4 – Buy NFT
If you're interested in purchasing an NFT, you have a couple of different options available to you. If the NFT is up for auction, you can bid on it through the order box that's displayed. Alternatively, if the NFT is being sold for a fixed price, you can click 'Buy for X' to purchase it instantly.
Once your NFT purchase is complete, the NFT will be added to the 'Collectibles' section of your Crypto.com account. From there, you can view the NFT or send it to an external wallet if you'd like.
Buying Crypto to Use on NFT Apps
NFTs are a type of cryptocurrency that can be used to purchase items or services online. To buy an NFT, you'll need to have Ethereum or another cryptocurrency to pay for the transaction fees. Many different platforms allow users to buy cryptocurrencies online.
Conclusion for Best NFT Apps
In this guide, we covered some of the best non-fungible token apps available — with a focus on which options have the best features and least fees. From here, you can dive right into the NFT market, and by choosing one of the apps on our list, you'll be able to find your way around easily.
By now, you should have a good understanding of which platforms offer the best NFT apps. When choosing between different options, bear in mind the types of features that are most important to you.
The type of NFT you're interested in, user interface, and selection of coins are the most common considerations. Whatever you choose, you'll be able to find an NFT app that suits your needs.