At this point, if you are in the NFT space you are somewhat familiar with what an NFT is but just in case you've landed here by default allow us to break down the idea of NFT art.
NFTs, or non-fungible tokens, are digital assets that apply real-world value to physical items. They are traded using blockchain technology via the marketplace of your choosing.
The use cases for NFT projects vary with different markets but no matter the reason you are looking to invest in the NFT industry, you want to be certain your investment includes successful NFTs.
What Makes an NFT Project Successful?
With many new projects opening up and NFT sales increasing, it's important to understand what makes an investment worthwhile. Although no one has any clear-cut answers to what determines successful NFT projects, there are things to look out for and strategies you can follow to make an informed decision.
What to Look for
Community
NFTs derive their value primarily from the level of engagement and involvement of the NFT community. A project may have a community of dedicated followers who help to promote and grow the project by sharing their experiences with others.
This was the case with Bored Ape Yacht Club, which cultivated a strong culture around the brand. With influential and active members who were highly engaged with the project, BAYC had no trouble attracting new members and growing its base of supporters.
Development Team
As an investor, you mustn't assess only the project itself, but also the people behind it. The team's experience, vision, and work ethic will ultimately be what determines the success of the venture. Therefore, it is important to seek out projects led by individuals who are transparent and driven by a long-term goal. Only then can you be sure that your investment will pay off in the end.
Reach
When researching upcoming NFT projects, it is important to consider the project's reach. One way to gauge a project's popularity is by looking at the number of followers it has. If a project only has a few followers, it may not be worth investing in. However, if there are many people following the project, this typically means that they believe in its potential and are willing to vouch for it. This is a good indicator of a legitimate project.
Finding the best NFTs
Before we move to the best tools for tracking trending NFTs, let us look through some tips that can help you decide on new NFTs to buy.
If you wish to make money from NFT investment, you need to perform hardcore research. You need to explore the story behind that particular NFT artwork. Some of the most crucial points to look through are:
Properties of the NFT to understand its rarity and its process of generation
Find out if the NFT creator has a community or not. If yes, then determine the location and following of the community.
Study the current price of that NFT
Find out how many total pieces of that NFT exist in the market
Analyze to determine on which platforms you can find that NFT
One of the best ways to start with NFT research is to go through the information available on Twitter, Discord, and YouTube. These are the places where a majority of NFT enthusiasts spend their time.
Where to Find NFT Projects
The NFT market has become so saturated with projects yet most still have a difficult time finding the best ones. While it's impossible to know for certain which NFTs will succeed in the future, there are some steps you can take to increase your chances of finding successful investments.
Review The Project Roadmap
A well-constructed roadmap is essential for any NFT project. It will provide you with an understanding of the team's goals and how they plan to achieve them. With this information, you can make more informed decisions about whether or not to support the project.
Social Media Platforms
Twitter is a great place to find NFT projects. The NFT community is incredibly active on Twitter, with many popular buyers and NFT influencers talking about different collections.
You can gain a lot of analytical information about specific NFT projects on Twitter and other social media accounts by following the right social media profiles.
Be Active on Discord
Discord can be a great way to stay up-to-date on new projects with lots of potential. Many popular creators have Discord servers that you can join to see what's trending. You can also find several Discord servers devoted to collecting NFTs. Because you have to reach out to people on Discord, this is a great way to get an idea of what's popular.
Best Tools to Track NFT Projects
Tracking changes in the NFT ecosystem is crucial to finding successful NFT projects. But keeping track of so many NFT projects can be a challenging task.
Being an active part of any community is a great way to find a good investment. The exclusive community of non-fungible assets is no different.
To make it easy for you to keep up with them all, we've compiled a list of tools that let you monitor projects you may be interested in and even those you never heard of.
FLOLiO
FLOLiO is a comprehensive blockchain analysis tool designed to help you track, visualize and analyze non-fungible token (NFT) analytics.
To help you fully understand the importance of NFTs, FLOLiO offers minute-by-minute updates on the world of Non-Fungible Tokens — from blockchain news to token listings and tokenization announcements. In addition, FLOLiO presents a range of analytics tools that allow users to get rich insights about exclusive NFTs.
The explore page not only lists collections with the option to view based on volume within a certain time, but you can also search most NFTs using the search bar.
Once you've searched a particular collection, you'll be taken to a page that shows floor price, unique owners, mint count, market cap, sales volume, and transactions. This information is critical when determining if a project is worth your investment.
BitDegree
BitDegree makes it easy to access and explore various NFTs on the market. With its comprehensive data and range of analytical tools, you can get a thorough understanding of any particular NFT.
BitDegree's NFT tracking tool allows users to build their portfolios and track the progress of all their favorite NFTs. With support from three protocols, BitDegree is currently tracking 357 NFT collections over 58 NFT marketplaces.
BitDegree provides its users with a detailed analysis of the top collections so they can make informed decisions about which NFTs to invest in.
Ninjalerts
Ninjalerts allows users to identify specific contract or wallet addresses and get notified when there's an event on either front. Whether you're tracking your holdings or keeping an eye on the competition, Ninjalerts is the perfect tool for staying up-to-date on all the latest activity in the world of cryptocurrency.
NFT enthusiasts can get real-time updates on their phones about minting activity, NFT reveals, and influencer movements. They are also able to buy a lifetime subscription to the mobile and web app in the form of an NFT.
NFT OnChained
NFT OnChained is the perfect way to keep an eye out for NFTs that are being sold at a bargain. The platform uses machine learning algorithms to estimate the current fair value of an NFT, taking into account factors such as rarity, traits, market data, and more.
The "Screener" feature lists the currently most underpriced NFTs across all tracked collections, so you can pick up a great deal on an NFT.
NFT OnChained also provides rarity scores, portfolio tracking, price history charts, top holder charts, and collection metrics, so users can make informed decisions about which NFTs to add to their collection. The "Stats" table lets you find collections that are trending or have good fundamentals, such as a large holder distribution.
Moby
Moby is a powerful NFT tracking tool that offers real-time statistics and feeds. It is very useful for NFT investors as it helps them in monitoring their assets and make decisions faster. The Pro version of Moby provides access to historical collection data, real-time feeds, NFT signals, and more.
The ranking system on Moby can provide great insight into which NFTs are the best tokens to buy. The ranking is calculated based on other traders' votes, and there are countless reviews so you can ascertain if a coin has high potential or is just a flash-in-the-pan. The only downside here is that you need to get monthly subscriptions to access all the features of Moby
Crypto.com
Crypto.com is a sophisticated NFT collection tracker that can provide you with information on all the top NFTs in the blockchain world. It lets you view available information on any NFT, including price and volume, so you can make sure to grab your favorite collectible as soon as it drops.
Aside from individual NFTs, Crypto.com also tracks upcoming collections that may be of interest to potential investors — enabling them to get all the information they need about a collection before purchase so they can make an informed decision about their investment.
Rarity.tools
Rarity is one of the most important aspects to consider when you are looking into any NFT collection. The best NFTs sell for millions of dollars due to being rare and therefore highly sought after. Rarity drives up the price and Rarity.tools tracks and examines this NFT space.
Users can batch NFTs based on collections, price, and volume. The website has a page for every specific NFT collection. You can also sort them based on unique characteristics.
Rarity.tools are the perfect platform to help you find the most profitable NFTs. With their Rarity Score, you can easily determine which NFTs are worth investing in and which ones aren't.
OpenSea
OpenSea, the largest NFT marketplace, is not only a marketplace for buying and selling NFTs but also a useful tool for tracking digital art collections. With OpenSea, you can easily keep tabs on your growing collection and see how it compares to others.
OpenSea is the best place to find NFT projects. With the help of the stats page, you can easily find the most active and popular NFTs in real-time. The marketplace offers a wide variety of NFTs from different blockchains such as Polygon, Ethereum, and Klayton. You can also filter projects based on categories like music, art, trading cards, and more.
Icy.tools
Icy.tool's trending collections section is the perfect place to discover popular NFTs from the previous day. You can easily filter the ranking by time, and see vital statistics like floor price, volume, sales, and average price. Whether you're a seasoned collector or just getting started, this is a great resource for finding new pieces to add to your collection.
NFT analysis is a breeze with this user-friendly interface. The discovery tab displays the wallet addresses of the top buyers and sellers in the marketplace so users can stay informed.
A premium subscription gives users access to detailed pages of information for every NFT collection. This includes comprehensive history and price charting for each NFT, as well as NFT project breakdowns based on rarity and attributes.
NFT Drops Calendar
The NFT Drops Calendar is a great way to stay up-to-date on all the latest information related to NFTs. Not only will you be alerted about upcoming drops, but also about giveaways, events, and sales related to NFTs.
If you're looking for a specific NFT collection, this platform makes it easy to find what you're looking for with different search tags. You can also sort all the NFTs by various parameters like minting date, price, volume, and more.
DappRadar
DappRadar is a well-known platform that offers a portfolio tracker to help investors manage their portfolios in real-time. However, the platform also features some of the most trending NFTs in the marketplace, based on different timeframes. You can directly view any NFT collection's volume, traders, and sales using DappRadar.
DappRadar is the perfect tool for keeping track of the latest and greatest NFT collections. With its real-time sales monitoring and filtering capabilities, you can easily find the perfect NFTs for your needs.
Upcoming NFT
Upcoming NFT is a platform that keeps you up-to-date on all the latest NFT drops, events, drops, auctions, and giveaways. You can view the listed NFT projects based on their popularity, time of adding, and even the upcoming ones. So never miss out on an opportunity to snag an NFT!
If you're thinking about jumping on the NFT bandwagon with your project, there's no better place to start than Upcoming NFT. The live feed tool allows investors to explore the trending NFTs being minted on the blockchain in real-time, giving them valuable insights into what's hot and what's not. Plus, submitting your NFT to the marketplace makes it easy for you to gain visibility and find a buyer for your digital art.
NFTs can be a powerful tool for promoting your upcoming projects. By getting involved in NFT events and promotions before your project launches, you can increase your visibility and attract better deals. This platform provides real-time data and insights into all the upcoming NFT events, so you can make the most of this opportunity.
NFT Evening
NFT Evening is the perfect website to keep you updated with all the upcoming NFT drops and other information related to NFTs. You can explore a wide range of content on the website, presented in a fun and easy-to-understand manner.
Users can view upcoming NFT projects on NFT Evening. In addition to NFT news and analysis, users can explore crypto art, collectibles, blockchain games, and the metaverse.
NFT Evening is the perfect place for creators to promote their upcoming NFT projects. By getting exposure on the platform before launch, artists can give their projects a big boost. This allows enthusiasts to find NFT communities easily. The platform's different filters (like categories and blockchain) make it easy to connect the artists and the audience for any project.
Nansen.ai
Nansen.ai is a great way to stay up-to-date on the latest trends in the NFT world. By gathering data from OpenSea, Nansen.ai can provide users with valuable insights into which projects are getting the most attention. Whether you're looking to invest in a new project or just want to stay informed, Nansen.ai is a great resource.
Nansen is the perfect way to see which NFT collections are commanding the highest prices and what big collectors are buying or holding. With its easy-to-use interface, any average buyer can keep track of the market and make informed decisions.
With Nansen, you can easily see which NFT collections are selling for the highest prices, and which collections are most popular with collectors. Additionally, Nansen can show you what the big collectors are holding or buying, so you can make informed decisions about your purchases.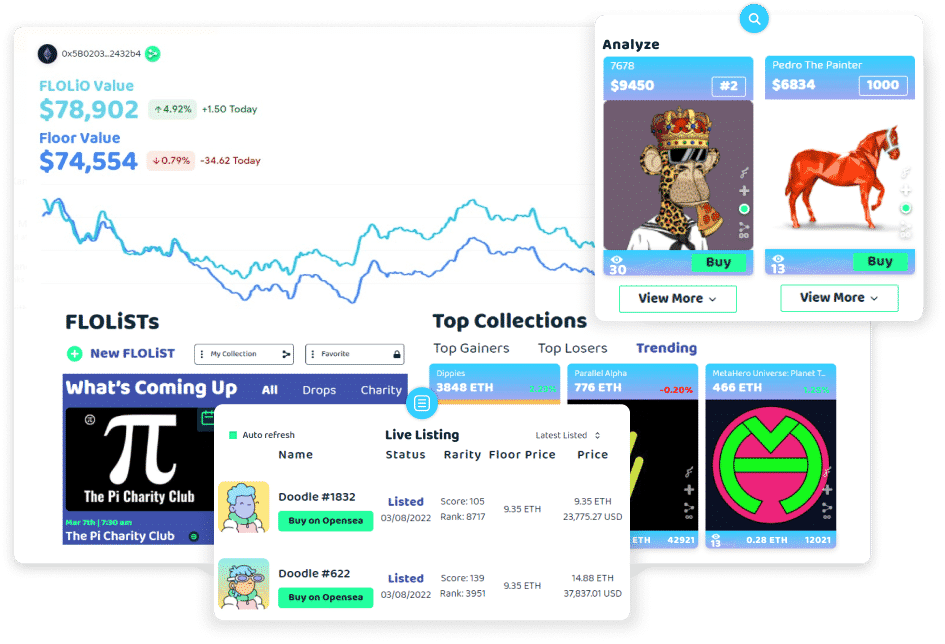 Wisdom within Web3
One place to manage all your digital assets
We combine data across marketplaces, metaverses, games & chains enabling communities to continue expanding the ecosystem.
The Most Successful NFT Collections
With a new NFT project appearing almost every day, it can be tough to keep track of the best ones out there. To help you stay on top of the latest and greatest in the world of NFTs, we've put together a list of some of the best NFT collections. Study them to see what to look for in a successful collection.
Bored Ape Yacht Club
BAYC is considered one of the most sought-after NFTs of all time; it's been displayed in famous hands such as Paris Hilton and Jimmy Fallon, for maximum exposure on social media. It has more than doubled in value since inception due to a phenomenon we call "exposure value", when a well-known user holds or names something with great popularity among their fans and peers, thus momentarily multiplying its price value by some certain degree!
CryptoPunks
As the OGs of the non-fungible, CryptoPunks set two trends that became standard in NFTs: they're 10k in size and will always be worth a small fortune. The majority of collections are 10,000 pieces strong, with each one containing an individual creation by an artist or designer. Sure, some have gone up to 15k or 20k, but no matter how many there are, any CryptoPunk is worth around $150,000 — and most are worth far more than that.
Azuki
Azuki has emerged from a sea of other more aesthetic-driven projects. With thousands of sales in the first few months alone and a passionate community that continues to grow, Azuki is doing extremely well for itself. That's not an easy feat for any NFT project — especially one that hasn't been around as long as other major competitors. This isn't just another transient success story either. It's proven that there may be more behind its success than just novelty or hype; it could enjoy months, even years, of growth thanks to its large and loyal fanbase.
World of Women
It's no secret that the world of cryptocurrency is predominantly male. In fact, according to a recent study, 96% of Bitcoin users are men. So it's no surprise that when it comes to non-fungible tokens (NFTs), women are often left out of the conversation.
Enter World of Women (WoW), an NFT collection created exclusively by women to foster a more diverse and inclusive community. Since its launch, WoW has garnered attention from celebrities like Dez Bryant, Eva Longoria, and Reece Witherspoon – the latter of whom is particularly passionate about the project, as her Hello Sunshine media company is producing a TV series and film to expand the World of Women brand.
With its empowering message and commitment to diversity, WoW is helping to change the face of the NFT industry – one token at a time.
Doodles
Doodles have seen huge success for a variety of reasons. The team behind it has a lot of experience with NFTs, having worked on the 2017 CryptoKitties collection. This experience has given them the ability to avoid some of the pitfalls that other NFT projects have faced. Additionally, they manage the DoodleBank, a treasury with millions of dollars inside where holders can vote on how the funds are invested. Celebrities like Justin Bieber have bought in, too, which has helped increase awareness and interest in the project.
VeeFriends
If you're interested in non-fungible tokens (NFTs), then you've probably heard of Gary Vaynerchuk. He's the CEO of VaynerX and co-founder of Resy, and he's a big proponent of NFTs. In May 2021, he released his first collection of NFTs, called VeeFriends, which has remained popular and valuable, with a floor price of around $30,000.
Each token in the VeeFriends collection was drawn by Gary himself and grants access to his annual "Web3" conference, VeeCon, for three years. Many of the tokens also came with additional benefits like gifts from Gary or the opportunity to hang out with him in person.
In Conclusion
When investing, it's imperative to stay up-to-date on upcoming NFTs. There are multiple ways in which investors can track the progress of NFT projects: Discords, tracking tools, and even social media. With a broad view of the emerging NFTs from these platforms, you'll be able to determine a clearer trading strategy — one that may lead you to success in your investments.