What is an NFT Influencer?
The creation of the first NFT in 2014 ushered in a new era in blockchain technology that redefined digital art and led to a reconsideration of ownership rights. But despite the potential real-world applications of the nonfungible token, the public has been slow to embrace NFTs when compared to other crypto content. While the NFT space has finally achieved mainstream recognition in the past year, the road to the top was filled with roadblocks and setbacks.
Along the way, there have been many people in the crypto community whose passion and insight helped propel NFTs to their current status. These individuals, known as NFT influencers, often have large social media followings and affect the purchasing decisions of others because of their authority and knowledge of the NFT market.
The following list contains the best NFT influencers across several different social media channels. While the best NFT influencers often have different opinions on the NFT world, they all have a passion for the technology and have been there since its inception.
As NFTs aren't easy to invest in, connecting with an NFT influencer could be the determining factor in whether your portfolio fails or prospers.
YouTube
Youtube is home to some of the best NFT influencers in the space and commands the largest reach of any social media platform. While the following NFT influencers have accounts on different platforms, Youtube is the platform they are most known for.
1.) GaryVee
There are dozens of NFT influencers on social media, but none is more famous than GaryVee. Known as the king of NFT influencer marketing, GaryVee (short for Gary Vaynerchuk) is a serial entrepreneur who has founded numerous businesses throughout his life. The NFT icon first became wealthy in the late 90s after moving his father's local liquor store onto the Internet.
After becoming one of the first wine e-commerce platforms on the web, the new company racked up millions in sales during the next few years – giving Gary the capital and reputation to launch other lucrative ventures.
Today, Gary is the chairman of VaynerX, a modern-day media and communications holding company, and the active CEO of VaynerMedia, an advertising agency that helps Fortune 100 companies with their marketing strategy.
Although GaryVee's professional title is that of a CEO, he is more widely recognized as an entrepreneur, author, speaker, and Internet personality, who in recent years has devoted his energies primarily to cryptocurrency and the NFT industry.
NFT Marketing
While GaryVee has always maintained an interest in the crypto world, he rose to prominence in the community after launching VeeFriends – an NFT project that provides holders access to an exclusive community of like-minded individuals. Owning a VeeFriend NFT also gives the holder access to VeeCon, a multi-day NFT conference filled with concerts, games, famous speakers, and community events.
Currently, GaryVee has over 3.8 million YouTube subscribers, and his page includes videos covering a range of topics, such as motivational speeches, mentorship, entrepreneurial advice, and predictions on the crypto market.
You can also follow Gary on Instagram, Twitter, and Facebook.
2.) JRNY Crypto
A master of NFT marketing on Youtube, JRNY Crypto boasts over 660,000 followers who tune in for videos on cryptocurrency, NFTs, Altcoins, trading tips, and market predictions. If there's any major news that has come out in the crypto world, you can be sure that JRNY crypto will be analyzing it.
JRNY Crypto regularly posts content every 1-2 weeks, and his videos usually last around 20 minutes. One of his most viewed videos, titled How to Become A Millionaire from NFTs, racked up over 225,000 views.
You can also follow JRNY Crypto on Twitter.
JRNY Club
In addition to his popular YouTube page, JRNY has also created JRNY Club, a membership NFT that grants holders early access to future JRNY NFT sets, private community chats, and exclusive NFT videos.
Overall, JRNY Club serves as a private community for NFT creators to communicate with each other and share ideas.
3.) The Bitcoin Express
Having joined YouTube in November 2019, The Bitcoin Express channel has worked its way up from a couple of hundred viewers to an impressive following of over 176,000 subscribers. The star of the videos, an NFT influencer named Chase, focuses on topics such as Bitcoin, Ethereum, Altcoins, Defi, blockchain, yield farming, and privacy.
Chase makes technical concepts easy to understand and distills them into ideas that new entrants into the space can understand. The site's motto, "Crypto made simple," accurately describes Chase's content.
New NFT Investors
If you're a new entrant into the NFT space, The Bitcoin Express is a great place to start learning the basics. Chase has tutorials on everything from creating NFTs, purchasing NFTs, and evaluating various marketplaces.
No matter what stage you are on in your NFT journey, The Bitcoin Express can be a helpful resource for NFT content.
4.) Alex Becker
While Alex Becker has just as many followers on his Twitter account (828,000), the NFT influencer is more well-known for his YouTube channel. Alex Becker's Channel delivers a variety of content ranging from crypto game investing, business strategy, diet, mental health, motivation, and NFT projects.
While Alex is known as a contrarian who often advocates for his viewers to embrace a minimalist lifestyle, cut distractions out of their life, and live like a monk, he nonetheless delivers excellent content that helps his listeners understand when the crypto market is at its highs and lows.
Currently, Alex produces videos about once a month and his recent content has focused on smaller coins that have the potential to outperform more established tokens.
Neo Tokyo City
Alex's most recent initiative includes Neo Tokyo City, a networking group that draws on developers, token founders, and builders to perfect the next version of crypto gaming in the metaverse.
The group's website reads, "We believe something very similar to Ready Player One will occur, and we want to be the community that was investing and building in that future years before it happens."
Twitter
Next to YouTube, Twitter stands as the social media site that commands the largest reach in terms of followers. Nonfungible tokens are so popular on the site that the subject has carved out its own community known as "NFT Twitter," which gives voice to some of the best NFT influencers and NFT creators in the industry.
1.) Punk6529 (@punk6529)
Known as one of the top NFT influencers on Twitter, Punk 6529 has amassed over 373,000 followers on the site in just over a year, and he doesn't look to be slowing down anytime soon. The creator, whose identity remains unknown, has revealed himself to be an early NFT adopter who first saw the value of cryptocurrency in 2013 as a mechanism for decentralization.
Although he gives his followers advice on the NFT space and shares updates on the latest news, Punk6529 has a philosophic bent that has led to a series of lengthy threads on the future of NFTs. Some of the threads, which can be accessed here, include topics as diverse as NFT rights experiments, the metaverse, cryptocurrency regulation in America, and the First Amendment and the SEC.
One of his top threads, titled "On NFTs in 2030," speaks about the increasing centralization of third parties that control our data and the role of NFTs in disrupting this system. The thread begins, "However bullish you are on NFTs, you are wrong. You are insufficiently bullish. 6529 has gone to the mountaintop and there is almost nothing in life that 6529 is as sure of as this."
Master Plan
Punk6529 is also the creator of an open metaverse, including a museum district where you're able to view NFTs, as well as the owner of an NFT investment fund.
One gets the impression that the NFT influencer is most passionate about this project, which would create an open metaverse outside the reach of big tech. Through NFTs, which 6529 believes are synonymous with memes, holders could easily organize anonymously to create shared groups that can form new power systems.
2.) Loopify (@Loopifyyy)
A top NFT influencer whose Twitter account dates back to May 2017, Loopify has close to 192,000 followers and posts interesting content such as threads and news articles.
Much like Punk6529, Loopify is a pseudonymous account that focuses on cryptocurrency prices, investment tips, and statistics regarding NFT marketplaces such as Rarible, Looks Rare, and OpenSea.
Currently, Loopify's pinned thread is titled, "How to Get Rich in NFTs (without getting lucky)," and includes advice for founders starting their own NFT project and investors who seek to build a career from flipping NFTs.
Side Projects
Loopify is also the creator and founder of Treeverse, a fantasy/adventure blockchain game that has its line of NFTs. While the Treeverse began as an NFT collectibles project, it has since grown into a full-fledged metaverse. It's a 2D theme open world where NFT owners can interact with and customize various metaverse features.
Loopify has also founded Interleave, a production company that aims to bring 3D, animated films featuring various NFTs to the public. Currently, there are three collections: Interleave Genesis, Interleave superNFT, and Interleave Productions. Each NFT collection comes with different perks, such as voting on proposals and exchanging NFTs for art.
3.) DCInvestor.eth (@iamDCinvestor)
With over 200,000 followers and an impressive NFT collection worth around $100 million, DCInvestor (whose real name is Aftab Hossain) can certainly be defined as one of the top NFT influencers on Twitter.
DCInvestor's Twitter bio labels him as a fan of "crypto, web3, Ethereum, defi, and NFT art," but his tweets move far beyond that, covering topics such as bear markets, inflation, leverage, NFT pricing, Fed policy, coding, royalties, or whatever else comes into mind. Simply put, DCInvestor doesn't have a single topic of focus, but tweets about whatever subject has caught his attention at the moment.
4.) Zeneca.eth (@Zeneca_33)
Although he has only been on Twitter for just over a year, Zeneca's insightful commentary covering all aspects of the NFT space has allowed him to amass close to 300,000 followers on Twitter and has earned him a reputation as a top NFT influencer. He also usually shares a daily sheet of project price floors where he tracks interesting NFT projects.
Zeneca is very well-known for founding ZenAcademy, a community that helps onboard new people to the Web3 ecosystem and fosters a shared community of classes and events for NFT enthusiasts. There exists a more exclusive level of ZenAcademy membership called The 333 Club, which has its own Discord, which provides greater access to exciting events and projects.
5.) OhhShiny (@Ohhshiny)
Considered one of the top NFT influencers on Twitter, OhhShiny is followed by over 154,000 people – a number that does not include those that tune in exclusively for his show on the same platform. OhhShiny's tweets include advice on getting the most from NFT Twitter, managing a portfolio, and staying away from scams.
The master of digital marketing has revealed that his goals include building a permission-less world and cutting out the middlemen, providing DeFi access for all, and empowering people to own their culture, assets, and contributions.
Digital Show
OhhShiny's Twitter account is unique as his content is not just directed toward NFT enthusiasts, but also to NFT creators and fellow NFT influencers. For example, OhhShiny hosts a "Community Office Hours" show every Friday at 11a ET. The program helps promote NFT projects in the metaverse and the artists behind them, and also provides advice on how to reach the next stage of the project.
The show, which takes place on Twitter Spaces, was co-founded along with Steve Cohen (the owner of the Mets) and Mark Daniel and covers metaverse-related topics, as well as various NFT projects. Ohhshiny's show has gained recognition not just for its intelligence and wit, but also because the discussions feature the brightest NFT influencers in the space.
6.) Farokh (@farokh)
Farokh is an entrepreneur, advisor, commentator, and leader within the Web 3 space, but he is best known as the founder of Rug Radio on Twitter Spaces.
While Farokh is also a great source for NFT news and analysis, as well as for updates on noteworthy NFT collections, many of his nearly 300,000 followers tune in for his positivity and his focus on the social aspects that come with Web3.
For example, Farokh's Twitter bio emphasizes "Good Thoughts. Good Words. Good Deeds," and his timeline is filled with threads on life, perspective, mental health, and motivation. Because of the concern and close-knit community that Farokh fosters with his account, he is known as one of the most well-loved NFT influencers on social media and is often called a true inspiration in the community.
While Farokh doesn't create NFTs, he influences the NFT community by showcasing up-and-coming NFT artists.
Rug Radio
While much of Farokh's Twitter content resembles that of other NFT influencers, what sets him apart is his Twitter Spaces show titled "Rug Radio."
Speaking on the initiative, Farokh stated his goal was to "create a decentralized Web3 media platform," that acts as a "launchpad, an incubator, a brand builder, an accelerator, and a creator fund."
Notable episodes included Farokh chatting with famed DJ Alesso about the artist's Cosmic NFT drops moments before Alesso hopped on stage, as well as a #NativelyDigital event with Sotheby's on Twitter Spaces.
7.) Kevin Rose (@kevinrose)
A unique figure among NFT influencers, Kevin Rose rose to prominence after founding the news-aggregator website Digg. It was only after achieving success in Web2 that Rose jumped headlong into Web3, which led to his founding of the famous NFT project Moonbirds.
Having invested in crypto startups, Rose's NFT investing advice is perfect for those looking to grow the value of their portfolio, as well as for NFT buyers looking to find the next big project.
Art Collection
Today, Rose is a partner at True Ventures, a Silicon Valley-based VC firm focused on early-stage technology startups, but this is not the cause of his fame. Rose is considered one of the top collectors in the NFT space and one of the wealthiest NFT influencers on Twitter – all of which have helped him amass over 1.6 million followers.
Rose is a huge fan of the NFT artist XCOPY and generative art platform Art Blocks, and he has even sold one of his Art Blocks Fidenza NFTs for $2.5 million worth of ETH in August 2021. Additionally, Rose hosts two podcasts, PROOF and Modern Finance, and has even launched a PROOF Collective community via NFT access passes.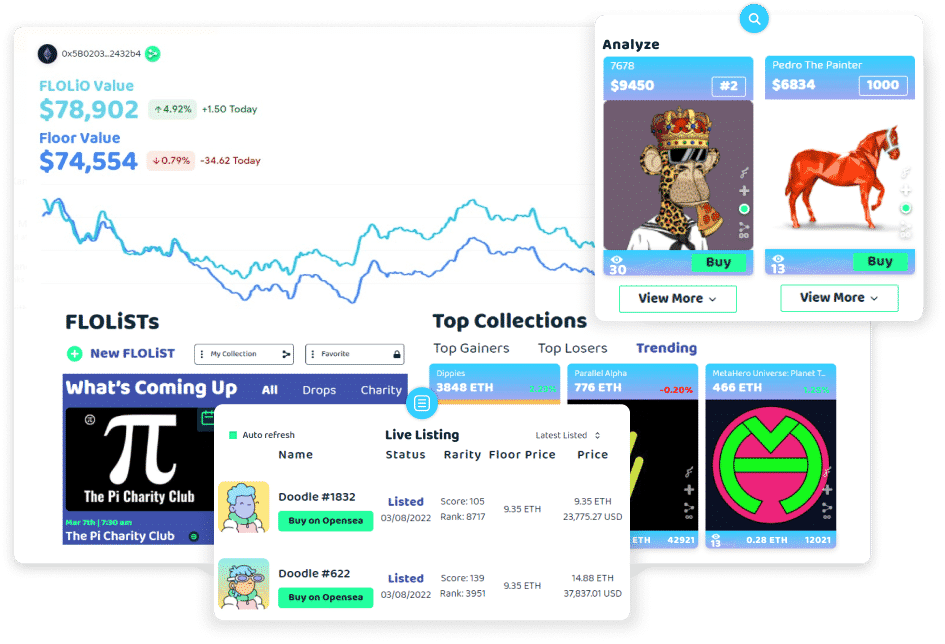 Wisdom within Web3
One place to manage all your digital assets
We combine data across marketplaces, metaverses, games & chains enabling communities to continue expanding the ecosystem.