NFTs are digital assets that are created using smart contract technology. They are a limited form of cryptocurrency that allows the owner to own the asset. NFTs are made with individual care, so no two are alike. This makes them valuable and rare.
NFTs are a new way to sell digital artwork. By creating a sense of urgency and scarcity, brands can boost their sales and create hype within the community. NFT apps make it easy for creators to tokenize their digital artwork and sell it to NFT enthusiasts across the world. We've compiled a list of our favorite NFT apps that NFT creators use to make their lives easier.
Choosing The Best NFT Apps
NFTs are a new and exciting way to trade digital assets, and the key to success is understanding how they are created. When looking to create an NFT choosing the best app can ensure that you get the most out of your NFT drops. With a little practice, you can become an expert in buying and selling NFTs in no time!
Programmed Watermarks
When looking to create an NFT choosing the best app is crucial for your NFTs success. for the best software to create your NFTs, be sure to check if the program automatically applies a watermark. Some software is programmed to do this, so it's important to make sure yours doesn't use watermarks without your permission. There are many factors to consider when choosing the right NFT creation software. Make sure the product you select meets all of your requirements.
Precision
As an artist, it is important to have software that is accurate and able to produce high-quality graphics. With so many different art styles out there, having a program that can express these styles is vital. Not to mention, being able to see even the smallest details is a must.
Editing capacity
It is important to choose software that offers editing tools suitable enough for your needs. A lot of software only has a basic color classification system, but others have much more powerful features that allow you to modify the images. This should be taken into consideration by anyone who edits software.
Tools and Templates
If you want to learn new software, you will need to find out what the tool provides and the template you need. However, if you have limited resources, this might limit your ability to develop. There are many tutorials online that can help those who are just learning the ropes.
The Best NFT Creator Apps
The most valuable apps of the near future will be those that enable artists to create NFTs. After all, it's only logical for brands to want to create their unique digital assets — no matter if you're a developer or an investor, these apps are perfect for you. With your smartphone or computer as your canvas, you can create and mint your NFT from the device on which you're creating it.
8bit Painter
8bit Painter is the best-pixelated image maker that allows you to create stunning images with ease. Whether you want to make a simple pixelated image or a complex NFT, 8bit Painter has the tools you need to get the job done quickly and easily.
To create a new canvas, simply choose your desired size. Pixel sizes range from 16×16 to 160×160; the larger the size, the more pixels are available for the art. For example, simple pixel art is typically 16×16 or 32×32.
With a little bit of creativity, you can import images and turn them into pixel art. This can be a great way to create unique and personal NFTs. After you've created an NFT on one of the other apps, you can easily convert it into a pixel image. Alternatively, you can import images as templates and then edit them to make them your own NFT. 8bit is available on Google Play.
Adobe Illustrator
Adobe Illustrator isn't necessarily an app to create NFT art but software. However, it is the graphic design industry standard, with a robust set of advanced tools and functionality.
Its wide range of advanced metrics and intuitive workflows will simplify the design process and allow you to focus on creating your next NFT. Its intuitive interface makes it more accessible than ever – perfect for first-time users.
Adobe Photoshop
Photoshop is a versatile, powerful tool that every graphic designer and artist should have. Its amazing features are numerous and extremely user-friendly, which has made it one of the most popular tools in the design industry.
It offers a slew of capabilities. From photo editing and image processing to 3D modeling and animation, there's hardly anything you can't do with the help of Photoshop including creating NFT art.
Corel Painter
Corel Painter is the number one essential tool for anyone who wants to create unique artwork. It has a library of customizable brushes, as well as incredible templates that can be used in all kinds of applications, from digital art to concept art and even comics. With Corel Painter, you can design unique digital art with a range of amazing textures and color palettes.
Fotor
Fotor is NFT art generator software that lets you create NFT art from your pictures and images. It only takes a few clicks to start making NFT art — even if you've never done it before.
Fotor's AI art generator is so easy to use that all you need to do is upload, crop, and resize. After that, you can even choose between different modes before the software does the rest. You can have your very own NFT artwork in no time.
GoArt
If you're looking to add a little more flair to your artwork mimicking the mad creative NFTs making their rounds on the market now, GoArt may be able to help.
The GoArt app uses artificial intelligence to transform photographs, artwork, and other images into beautiful works of art like those created by Picasso, Van Gogh, and Monet to name a few— without even needing an artistic background. This app offers full customization of all-new artistic works to be created, so you can enjoy a variety of paintings based on the different pictures you choose. The AI technology in the platform is constantly growing and getting better with time, expanding your GoArt experience.
GoArt's BFT-related functions enable users to encode and mint NFTs effortlessly, making it a comprehensive and user-friendly asset creation service. It also has numerous additional features with HD and print support that leaves no room for users to complain. Users can print pictures up to 8MP in resolution and export them as T-Shirts, wallpapers, photo portfolios, etc.
Krita
Krita is a suite of tools that give artists the ability to express their imagination. With powerful brushes and advanced editing functions, it helps artists create illustrations, comics, animations, concept art, storyboards, and NFT artwork. It's simple enough for beginners and expert enough for professionals.
NightCafe
The NightCafe is the only platform that lets you create NFT art generated by artificial intelligence, in bulk. With it, non-artists can quickly and easily make high-quality images of their own NFTs and share them with a worldwide audience.
Because of its user-friendly interface, NightCafe makes it easy to combine multiple design elements into one, letting you create a variety of NFT artworks with just a few clicks.
Nifty Ink
Nifty Ink is a platform created to support NFT artists and help them monetize their work. Its marketplace allows you to showcase your NFT art and connect with collectors who want it. Nifty Ink is the easiest and most interactive way to create, sell, and earn tokens on X-DAI. This free platform allows users to create NFT art as well as digital art on X-DAI's blockchain.
NFT Creator
One of the best iPhone apps for creators is NFT Creator. The new features and easy-to-use art creator lets you turn any image into an NFT — just import the picture, edit it, and export it as an NFT.
As the Best NFT creator app, artists can also make their own custom NFT trading cards simply by just choosing a template and filling out the information. NFT Creator also has dozens of text and graphic styles to use, so you can make your collection look both personal and professional in seconds. Not to mention, this app is completely free.
On the NFT Creator marketplace, you can browse through a variety of NFTs from different creators and purchase the ones you like. You can also enter contests to win free NFTs.
NFT Go App
NFT GO App is the best mobile marketplace for buying and selling NFTs, making it the perfect NFT app for creators looking to get involved in the world of NFTs. With an easy-to-use interface and a variety of features, NFT GO is the perfect platform for anyone interested in buying, selling, or creating NFTs.
NFT GO App is the easiest way to create and publish your own NFTs. With support for all major blockchains, including Ethereum Mainnet and Polygon Networks, you can create and sell your NFTs from anywhere, at any time.
Users can also pay for NFTs using standard in-app purchases, or IAP. This makes it easy to get started with NFTs without having to use any cryptocurrency.
PixelChain
Pixelchain has a blockchain-based app that allows users to create their works of pixel art. Users can design anywhere they can use an internet connection, using the app's unique grid system, then save the full resolution of their creations on the blockchain.
The Pixelchain app not only allows users to create high-resolution artworks but also saves the full resolution of the images on a decentralized, secure ledger. The data stored in the blockchain is always accessible directly.
SketchAr
SketchAr is the world's first and best source of digital art. Whether you're an artist looking to share your skills with the world or a consumer who wants to collect art, buy art, or learn about digital art, SketchAr has its own NFT marketplace built by artists for creators. The app provides all of the tools you need to create, share, and sell your masterpieces to the rest of the creative community.
The SketchAR app is a must-have if you're a fan of new art projects, like making memes or drawing your favorite characters. With a wide array of features like a drawing tool and digital canvas, it can shake up your visual art by letting you bring your photos to life in NFT form.
SuperMe
SuperMe isn't an app, but rather a simple graphic interface for NFTs. Rather than leading you through the absurdly confusing process of designing and creating your token, all you have to do is build an avatar — which can be done in minutes — and then get to the fun stuff: minting it into an NFT for all to enjoy
SuperMe allows you to create realistic 3D avatars for use in trading card games. Upload your photo, choose your face and clothing, and create an avatar that represents you inside the game. You can use your avatar as your avatar or scan it into your favorite app – or do both at once with the NFT Creator app.
Token.art
Token.art is an exciting NFT-oriented platform for both collectors and investors. With a focus on the highest quality, it provides users with a variety of services. Users can order and filter NFTs by name and value, check their portfolio in real-time, check token liquidity, and more. It also has fiat currency support, as well as more fiat currency support to come in future updates.
Tokens can come in many forms, but art tokens are among the most widely accepted and valuable on the market. They combine utility value with the emotional response that singular pieces of art tend to evoke. If a collector has a problem minting a token on their blockchain, Token.art is here to help with their blockchain software.
VoxEdit
VoxEdit is an editing tool and NFT maker that allows creators to create and customize their own NFTs from characters to famous art pieces. The platform is easy to use, allowing laypeople to create assets in VR and export them to engines like Unity. VoxEdit is integrated with Sandbox's marketplace, which enables creators to directly buy and sell NFTs.
6 Steps To Create NFTs Using An App
NFTs have been gaining in popularity lately, with more and more apps popping up that allow artists to create their own NFTs. If you're not familiar with the basics of NFTs, this article has introduced some of the best NFT creator apps out there, and now the steps to using them to create NFTs.
1. Select a Blockchain
The Ethereum blockchain is the most popular choice for the creation and trading of non-fungible tokens or NFTs — they hold value, are unique, and cannot be replicated. Several different blockchains feature methods of creating and trading NFTs, but Ethereum is the most widely used because it has a large market and high volume. Artists and NFT creators tend to prefer Ethereum because it provides them with more options for their digital creations.
If you're looking to mint NFTs on the cheap, or even for free, check out some of these Ethereum alternatives.:
Tezos
Polygon
Polkadot
Binance Smart Chain (BSC)
2. Choose a Marketplace
It is more than just costs that you need to keep in mind while selecting a marketplace to buy and sell NFTs — the sort of NFT you are selling, as well as the blockchain it will be trading on, should be carefully considered.
Most NFT marketplaces use Ethereum, but some have chosen newer blockchains because of the lower gas fees and energy footprint associated with smaller chains. Below are various marketplaces to trade your NFT art.
OpenSea App
OpenSea is the world's largest NFT marketplace. It has a wide range of items, from art to music to photography to sports memorabilia. You can create an account for free and start minting, selling, and browsing right away.
OpenSea is now a gas-free NFT marketplace, thanks to cross-blockchain compatibility. The marketplace currently accepts Polygon as a cryptocurrency, removing the need for high transaction fees. Creators can mint without the hefty gas fees associated with Ethereum.
Rarible
Rarible is the perfect NFT marketplace for those looking to buy or sell individual works of art, complete collections, or other collectibles. With a strong focus on community and local control, Rarible has attracted some of the biggest names in the sports, gaming, and media industries.
Adobe is just one of the many well-known companies that have teamed up with Rarible to help safeguard artists' works and create unique NFTs. Plus, with features like Lazy Minting, Rarible makes it easy for buyers and sellers to trade without having to worry about gas fees.
SuperRare
If you're looking for high-quality NFTs, SuperRare is the best NFT marketplace to choose from. With a more gallery-like feel than other NFT markets, SuperRare focuses on the quality of the art, rather than the ease with which it can be used as a meme.
Of the artists that apply, only one percent are admitted to SuperRare, making it a very exclusive market. But if you're accepted, you'll be included in a catalog of well-chosen and intriguing artworks.
Foundation
Artists have always needed a place to congregate and share ideas, and Foundation provides just that. It's an online community curated by artists, for artists, to promote creativity and collaboration. To join FoundatioTon, you must be invited by another artist who is already a member.
As an artist on Foundation, you'll receive 85% of the profits from selling an NFT, while secondary transactions incur a 10% royalty fee. This is more favorable than other platforms, which often charge higher transaction fees. So if you're looking for a supportive community of artists to sell your work, look no further than Foundation.
Nifty Gateway
Nifty Gateway is a decentralized platform that helps artists and brands create limited-edition digital art collections. To ensure that the artwork on the site is of high quality, Nifty only allows well-known artists to issue NFTs — and the ones who do get issued a piece of artwork will have to go through an application process and interview.
3. Sync Your Crypto Wallet
To purchase tokens, you'll need a crypto wallet with support for the blockchain protocol that your NFTs are based on. The Ethereum blockchain is the most popular right now, so any Ethereum wallet should work fine with NFTs.
However, there are other blockchains used by NFTs, such as BSC, that have different token specifications, marketplaces, and digital wallets. Some of the more popular wallets that are compatible with many NFT marketplaces include Trust Wallet and MetaMask.
4. Create Your NFT Art
Now, the best part, creating NFTs. The previously mentioned apps make creating NFTs effortless. Whether you are looking to create NFT collections or just try your hand at one, these NFT apps and software are the best places to get started.
5. Mint your NFT
Minting is the process of putting your digital artwork on a specific blockchain. It usually takes about 15 to 30 minutes to mint your NFT; however, some can take much longer depending on network traffic and the size of the transaction.
Once it is minted, you can add it to your wallet by sending or receiving it from another wallet.
6. List your NFT
Now it's time to sell your NFT. You can set a fixed price, run an auction, or both on the marketplace of your choice. For the fixed-price sale, you can choose from a variety of packages based on the number of unique bids.
The timed auction is perfect for selling limited edition physical copies — allowing you to set a start and end time for the auction, along with a minimum bid threshold.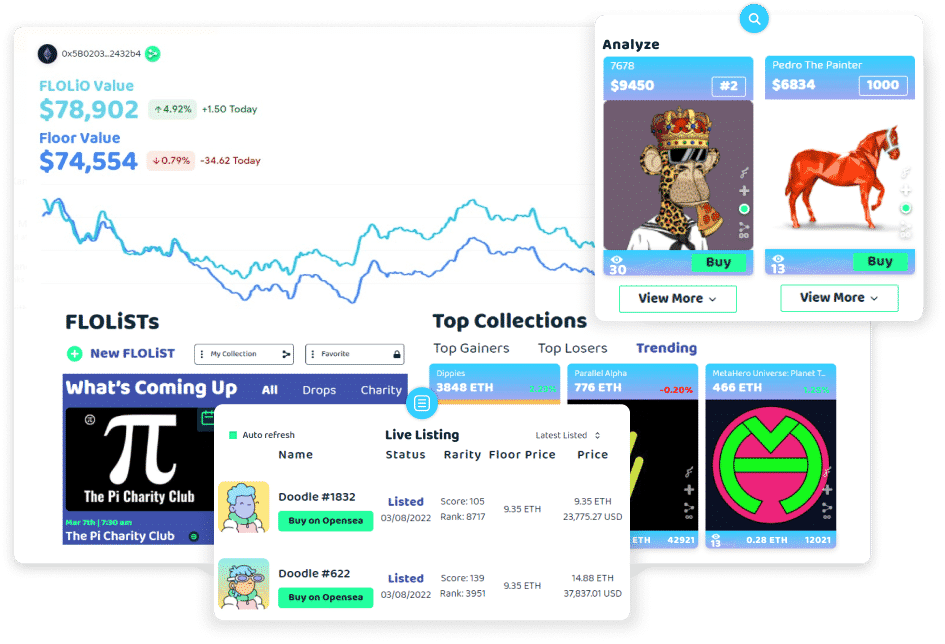 Wisdom within Web3
One place to manage all your digital assets
We combine data across marketplaces, metaverses, games & chains enabling communities to continue expanding the ecosystem.
Conclusion
The above list shows that there are many ways to create NFTs. The most important thing is to understand how they work and how they're used. It's equally important to realize what platform you should use for a specific project.