Top Crypto Artists in 2022
The rise of cryptocurrency and the advent of non fungible tokens has ushered in a new era in the art world that has seen relatively unknown artists achieve fame and fortune in the span of a few short years. The mass adoption of these digital artworks can be partly attributed to the ease with which art lovers can purchase this work in the form of NFTs from online exchanges.
What is an NFT?
As of February 2022, NFT transactions have hit $3.5 billion on OpenSea, the world's largest NFT exchange. While the rise of NFTs is unprecedented in the digital space, a clue to the cryptoasset's appeal can be found in its name. Each NFT is "non-fungible," meaning that every NFT ever created has a unique digital signature that cannot be replicated or destroyed.
At a fundamental level, NFTs can be considered certificates of authenticity or proof of ownership for digital artifacts.
While the acceptance of the NFT as an artistic medium was at first slow, the digital collectibles market burst onto the scene on February 25, 2021, when a piece of art titled "Everydays: The First 5,000 Days," created by the artist Beeple, sold for a whopping $69.3 million at Christie's auction house.
The record sale not only shattered expectations in the art world, but it helped attract other crypto artists that would soon help to transform the NFT art space into a cultural phenomenon.
The Artists
1.) Beeple
Based in South Carolina, many consider Beeple (aka Mike Winklemann) to be one of the best digital artists of his generation and a pioneer in the world of crypto art. Although he first gained international attention for the sale of "Everydays," a 13-year-long project that involved creating and posting a new artwork every day, the prolific animator and graphic designer has not stopped innovating and continues to share art almost daily.
Beeple's digital artwork spans a range of topics and is not limited to any particular subject. Often, Beeple will put his own unique twist on a popular story or event, combining fantasy with reality. During the U.S. presidential election for instance, Beeple created an NFT that would change depending on the outcome: a Trump victory would have seen the president rampaging through hell, while his loss changed the visual to a dead body lying on the ground.
Collaborations
In addition to creating digital art, Beeple has also collaborated with global brands such as Apple, Nike, Space X, and Samsung, as well as developing concert visuals for artists such as Ariana Grande, Justin Bieber, Childish Gambino, Nicki Minaj, and Eminem
Beeple's creativity and work ethic has paid dividends for his career – he is now the third most valuable living artist and can boast of having over 2.5 million followers on Instagram alone. The Charleston native has also set an NFT art world record after selling $582,000 worth of art in five minutes.
Career Summary
As of February of 2022, Beeple has sold 1,351 artworks for a total cost of $172 million, with his highest sale going for $69.3 million.
2.) Fewocious
Raised in Las Vegas and currently residing in New York, Fewocious is a 19 year old digital artist who has been referred to as a rising star in the art world. Although admitting to initially being skeptical over selling art in the form of NFTs, a $25,000 sale of his piece titled 'Moment I Fell in Love' was enough to convince him that he had a future in the NFT world.
Sometimes described as a "pop-surrealist," Fewocious' artwork usually includes dream-like undertones and caricatures infused with pop culture references.
Collaborations
Fewocious is most famous for his FEWO WORLD collection, a collaboration with the futuristic sneaker and collectible creators RFTKT. Known for their prowess in combining fashion and gaming, RFTKT paired each NFT with a real world pair of shoes or other fashion piece, generating over $3 million in sales in minutes.
He also drew attention from the crypto community for a piece commissioned by the co-founders of Morgan Creek Digital – one of the largest digital asset managers in the world. The work ultimately sold at auction auction for $21,350.
Career Summary
So far, Fewocious has sold 3,189 individual pieces for a total value of $26.7 million, with his highest sale going for $2.8 million.
3.) Blake Kathryn
Characterizing herself as a "3D artist with surreal, futuristic aesthetics," LA-based Blake Kathryn's characters are often described as, feminine, robotic, and futuristic. Many of her techno-human hybrids resemble figures from sci-fi movies, and almost none of them seem to belong to this century.
Collaborations
Kathryn has entered into a number of partnerships throughout her career, including a recent high-profile collaboration with Paris Hilton. The Planet Paris collection, which features scenes and images drawn from Paris' life, hit a high point with the sale of 'Iconic Crypto Queen." The piece, which showed a digital representation of Paris floating through clouds, sold for over $1 million.
Kathryn's unique style has has also led to collaborations with Jimmy Choo, Fendi, and even Smirnoff, the vodka brand. While Kathryn is passionate about her art, she also famously quipped that her famous collaborations help "to get those pretty little bills paid."
Career Summary
As of February of 2022, Blake Kathryn has sold 868 individual pieces at a total cost of $3.5 million, with her highest sale going for $1.1 million.
4.) Mad Dog Jones
A Toronto-based artist, Mad Dog Jones (aka Michah Dowbak) often depicts dystopian cityscapes and cyberpunk themes in his digital artwork. Amazingly, all of Jones' works start as photographs or hand drawings, with the Canadien gradually transforming them on his iPad through a multi-step process that involves coloring and illustrating.
On a macro level, Jones' digital art seems to focus exclusively on futuristic city settings and mankind's dependence on technology, but a closer examination reveals the more humanistic themes of friendship, love, and community.
'The Replicator, one of Jones' most famous works, is a 50 second short story video of a dilapidated xerox machine in the office room of a city. While the machine's only functions include turning on, making a copy of paper, and turning off, the sounds and visual cues of the cityscape give the video an otherworldly, futuristic tone.
Collaborations
Although usually operating solo, Jones' recently collaborated with NiftyGateway, one of the most prestigious and exclusive NFT marketplaces on the web. The partnership produced a series of works titled Crash + Burn, as well as Burn Mechanic. The hugely successful auction went on to produce $4.3 million in sales.
Career Summary
Mad Dog Jones has sold 1602 NFTs over the course of his career, with the pieces adding up for a total artwork value of over $18.6 million. His most successful project is 'The Replicator' which sold for over $4.1 million.
5.) Pak
Often characterized as one of the top crypto artists of his generation, Pak is an elusive and mysterious figure who has never revealed his true identity. Pak's brilliant design and shadowy nature have led contemporaries to dub him/her as the "Satoshi of Crypto Art" – an ode to the legendary founder of blockchain technology.
Pak is known for a style that incorporates various geometric shapes or programmatically generated images. These shapes and designs can often seem like optical illusions or impossible spatial positions – adding a twist to every piece of art. To complicate matters, Pak sometimes embeds hidden messages into NFTs and uses social media platforms to promote and discuss them.
Social Media Presence
Pak has a huge following on Twitter and Instagram, which not only includes the general public but celebrities such as Elon Musk. Pak is also the creator of Archillect, a popular social media account on Twitter and Instagram that uses bots and artificial intelligence to select various pictures and artworks to trend on social media platforms.
Major Works
Although many of Pak's works are simply unique designs that defy spatial reasoning, some of his pieces have a distinct message that he/she wishes to convey to the viewer. In Pak's latest release on Nifty Gateway, The Title, the artist showcased a series of NFTs with the same image, but with different titles – a nod to the scarcity of crypto art and the different ways it can be revealed to an audience.
Despite the large sales, Pak doesn't seem to be slowing down anytime soon. The recent project "Lost Poets" brought in almost $70 million in NFT sales in just two hours, while "Merge" surpassed the $90 million in 48 hours, becoming the largest sale ever, which also ranked him first in the list of most expensive NFTs of the year.
Career Summary
As of February of 2022, Pak has the largest total artwork value of any digital artist – racking up a whopping $340 million in sales. The anonymous creator's largest sale came in at $43.2 million.
6.) Trevor Jones
One of the most popular crypto artists in the world, Trever Jones is a Scotland-based creator who has gained international attention for his forays into augmented reality, animation, NFC tags, and the integration of QR codes.
Besides his ability to combine emerging technology with established artistic ideals, Jones has received praise for drawing inspiration from Pablo Picasso's style in his digital art. Jones has worked off the palette and composition of some of Pablo's key portraits and recreated them with cryptocurrency symbols and other relevant iconography.
Simply put, Jones admires and respects historical artists, but he can't help but adding his own crypto twist to create unique digital artwork.
Major Works
Jones is best known for his "Bitcoin Angel" piece, which sold for a record $3 million in just seven minutes. However, his highest-selling piece is "Genesis," a collaboration undertaken with the help of Argentine comic book designer Jose Delbo.
In "Genesis," Jones added his own touch to a pencil sketch of Batman made by the Marvel designer in oil on canvas. The fans approved of the final product – the crypto art was auctioned off at 302.5 ETH, for a total sum o $941,746. Additionally, Jones' pieces "EthBoy" and "Who Is The Creator 2" also sold for a whopping 260 ETH and 150 ETH respectively.
Career Summary
Trevor Jones has sold a whopping 6000 NFTs over the course of his career, with the pieces adding up for a total artwork value of over $23.5 million. His most successful piece sold for over $941,000.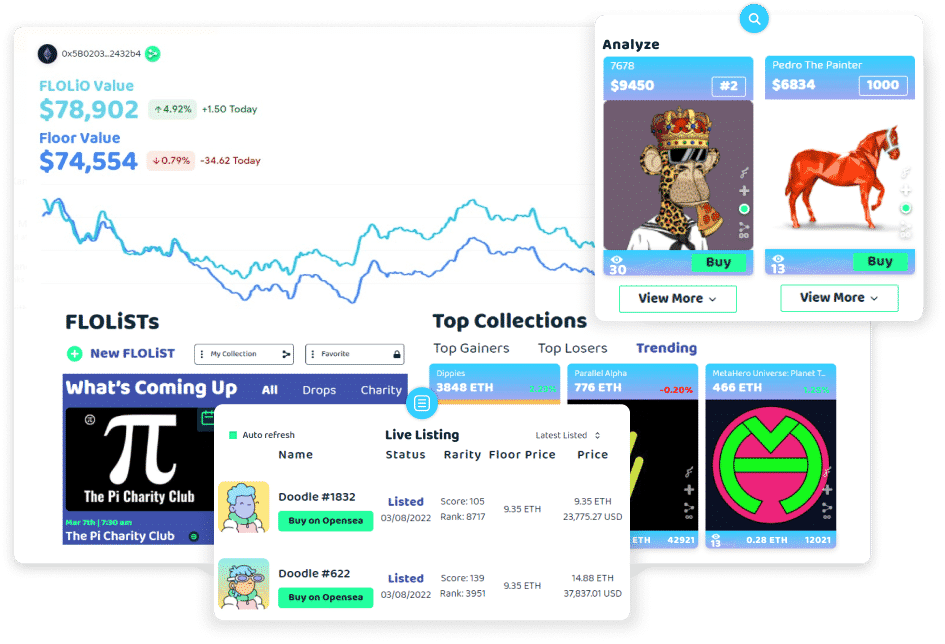 Wisdom within Web3
One place to manage all your digital assets
We combine data across marketplaces, metaverses, games & chains enabling communities to continue expanding the ecosystem.