With more people getting involved in crypto daily, airdrops are becoming a necessary tool for projects to gain traction and users to keep up to date.
Essentially airdrops are a marketing strategy that projects utilize to encourage the use of their platform. New projects will airdrop free crypto or tokens into your wallet as an initial offering or a reward for promoting the project.
Airdrops Meaning
Crypto Airdrops
A crypto airdrop will most likely involve a blockchain-based venture in which a developer promotes the free distribution of new cryptocurrency tokens to drive awareness and build communities quickly. Utilizing airdrops also places an early value on a token as users begin to trade. Thus, startups that wish to kickstart their crypto projects often use airdrops as a means of raising funds.
The release of an upcoming airdrop is usually posted on a crypto project's website or discord page and shared across social media platforms where many cryptocurrency enthusiasts will take notice.
Members of selected blockchain platforms will receive small amounts of newly-minted cryptocurrencies via airdrops. For example, cryptocurrency startups may airdrop coins to wallet holders of the native cryptocurrency.
NFT Airdrops
Like crypto airdrop, by participating in giveaways, users will receive free NFTs on different platforms and accumulate a collection of tokens to build their crypto holdings or NFT portfolio without having to pay anything.
There are multiple reasons an NFT airdrop can be initiated. Users may receive an NFT airdrop simply for holding a certain NFT in their wallet. If a company is looking to promote a new release, it will issue a giveaway to early supporters as a marketing strategy.
Types of Airdrops
Standard Airdrop
A standard airdrop is a marketing strategy that involves transferring tokens to existing wallets.
This method is to promote the project and encourage more users to share and engage with the community often during their initial coin offering.
All you have to do to receive a standard airdrop is to sign up for an account with the new venture and provide your wallet address during distribution.
Bounty Airdrop
A bounty airdrop is also used to increase a project's visibility but prospective users must engage in certain marketing activities before receiving the drop. Some projects will reward a user with tokens for completing simple social media tasks like reposting a post or joining their discord.
Bounties are beneficial both ways because it provides the creator promotional activity and the user free tokens.
Exclusive Airdrop
To participate in an exclusive airdrop, a user would have to have an established history with a particular project, website, or community.
Hard Fork Airdrop
A hard ford occurs when there is a permanent split in the blockchain. This split happens when there is a change to the code which creates two paths. One path has the new blockchain, and the second path has the original blockchain.
If a virtual currency experiences a hard fork, an airdrop may be used to send the new cryptocurrency straight to users' wallets.
Holder Airdrop
When a holder airdrop takes place, it is providing tokens to a user's wallet for holding a particular cryptocurrency. These drops differ from a hard fork because instead of them being original tokens, they are entirely new projects.
Airdrop Eligibility
The first step to receiving airdrops is to become an early supporter of new projects. With multiple projects releasing by the seconds, simply being a part of a community though, isn't enough, users will also have to perform a certain task.
Projects may require a holder to already have particular tokens or maintain a minimum balance to be eligible for an airdrop. In other cases, users may need to perform a few required tasks such as posting about a project on social media.
Since airdrops are intended mainly for promotional and marketing purposes, it is often difficult to determine whether you qualify. Eligibility will differ for each project. To stay on top of required criteria, perform regular searches, sign up for exclusive drops, research the platform and monitor up and coming projects.
5 Reasons Projects Implement Airdrops
Aside from the obvious occurrence of using airdrops as a marketing tactic, there are a few sub-reasons communities will release airdrops.
Create Awareness:
Spreading awareness is the primary reason why startups conduct airdrops. As with any new trend, oversaturation flooded the market and made it difficult to promote. Projects needed a better way to drive buzz and giving out free tokens seemed to be an easy fix.
The popularity of airdrops led many supporters to go on a search for more, driving traffic to numerous platforms. Because airdrop recipients are some of the most vocal advocates the allure of not having to buy digital assets allows a project to organically grow.
Rewarding Users
Unfortunately, many investors in the crypto ecosystem are only interested in maximizing their returns and don't care about long-term sustainability. Therefore, they go from one project to another, dumping and pumping just to make profits without providing any real value to the platform.
As an offset, some startups conduct airdrops to distribute free coins to reward loyal users who either use their platform or continue to hold a specific amount of tokens in their wallets for certain periods.
Attracting Investments
Crypto airdrops are followed by token offerings in most cases. A clever way to boost the funds raised without spending too much on marketing is through airdrops.
When a token is created, the company launches and conducts an airdrop to generate buzz. This will help to drive the price of a token upwards as most recipients will promote projects that give them a free token. Since interactions can be measured and used to attract investors, the data is used to gauge a project's future potential. Therefore, an airdrop, which significantly increases community engagement, could also boost the startup's overall capital.
Learning More About Its Community
Some projects require recipients to fill out forms providing personal details such as email, social media, and their opinions on certain projects to receive an airdrop.
Why are Airdrops Important?
As a vital part of the web3 community, airdrops enable brands to effectively promote their projects, continue to provide added value and utility to their holders and allow for the release of a blockchain without losing the trust and relationships of their users.
In times of high demand, there is a greater chance of an increased number of users being attracted to a particular project. The more users, the wider the reach for promotions. Airdrops allow for that reach to be more feasible in terms of virtual currency.
The bottom line is that airdrops offer individuals and brands a simple and inexpensive way to reach new customers, strengthen current relationships, and advertise their products and services.
How do you receive an airdrop?
Airdrops are an exciting way to add to your portfolio without having to buy digital assets and there are several ways to find them:
Performing regular searches online
Following airdrop aggregators and signing up for their exclusive drops
Signing up for a new platform to take advantage of any standard airdrops they offer
Monitoring up-and-coming projects to prepare for bounty airdrops
Staying abreast of availability is simply a matter of keeping up with projects and taking advantage of opportunities as they arise.
Platforms will typically request your wallet address when you register for the airdrops. You will receive the token once the airdrop date arrives. Different platforms may require a wallet that can support the blockchain used by their services.
The Benefit for Supporters
Anything free can quickly appreciate or depreciate depending on the push from the community. Since there is no initial investment, the opportunity for huge profits is almost guaranteed. Along with expanding a collectors' portfolio, drops also offer certain access to the community depending on its utility.
Avoiding Airdrop Scams
The allure of free money will always bring out scammers hoping to prey on vulnerable beneficiaries. It is important to do your research and take the necessary steps not to fall for scams. There are a few airdrop related scams to be leery of:
Dump Airdrops
Dumps will generate short-term hype through consistent posting. Once interest grows the value of the tokens increase. Once the tokens are available, the developer will quickly sell all of their tokens for a profit. After they have sold all of their tokens, they disappear and the project dies.
Private Key Scams
Your private key is like your social security number; NEVER share it with anyone. Drops that ask for your private key are a scam; only your public address is needed to receive tokens.
Information Trolling
Since the majority of the drops will require you to submit some personal information like email, handles, etc., scammers can acquire this information and sell it to other marketers to spam you. They may also attempt to phish you. Don't ever give away your email password or any other sensitive information that will allow anyone personal access.
Bait and Switch
The idea behind bait and switch is to trick you into signing for other partner airdrops, while you are signing up for one. This is done so that the scammer can collect referral credit. This isn't as risky as the rest but it will take up valuable time.
In Summation
Airdrops can be beneficial for both creator and collector. They can help fund and strengthen the community, spread awareness, build a portfolio and if valuable enough, provide a profitable outlet. Be certain to look into any airdrop you may be interested in thoroughly before committing. If executed properly, everyone can win.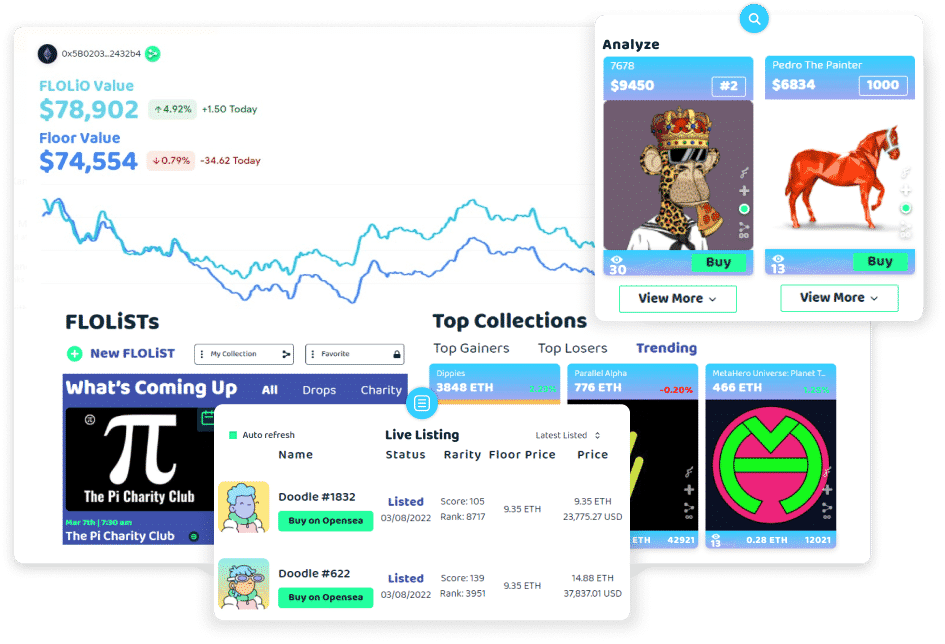 Wisdom within Web3
One place to manage all your digital assets
We combine data across marketplaces, metaverses, games & chains enabling communities to continue expanding the ecosystem.