The term whitelisted usually means an "allowed" or "safe" list but in the NFT world it is the process of getting crypto wallet addresses approved for a future mint which is also known as a "drop."
It's becoming every collector's goal to be a part of an NFT project that has massive potential so to capitalize on this asset class, NFT creators are utilizing whitelists to reward members by allowing them to mint tokens at a decreased cost, or even in some cases for free.
An NFT whitelist could be explained as a VIP guest list at an event; if you are on it, you get perks such as early access or the opportunity to purchase upcoming projects at a lower price.
What is a Whitelist Used For?
Whitelists are a great solution for NFT market saturation and are utilized for two main reasons; reward early supporters and prevent gas wars.
Reward Early Supporters:
NFT projects launch consistently so creators must find ways to reward early supporters. Popular projects also sell out fast causing most to miss out.
Offering supporters the opportunity to get on a whitelist to mint their NFT pre-launch will not only provide guaranteed slots but possibly a reduced price or even a free NFT. This also encourages supporters to stay engaged and promote the project.
Preventing Gas Wars:
Transaction fees on the Ethereum blockchain have been known to be incredibly high during peak hours or times of network congestion. Popular NFT launches don't help this case as users are trying to mint at the same time. During these scenarios, gas fees can increase and be more than the actual price of the NFT.
This is commonly referred to as a "gas war" because people are competing to mint as quickly as possible before the NFT sells out. The more gas you are willing to pay, the more likely your transaction will go through.
A whitelist will help rectify this issue by allowing users advance access. The creator can create a window of time on a particular day in which the NFT can be minted. Whitelisted addresses are then able to choose the time they want to execute the minting process and spread out their transactions, preventing congestion.
How to Get a Whitelist Spot
There are 3 typical steps to getting whitelisted for an NFT project:
Find a project before they launch
Join the project's Discord group
Follow the instructions for getting whitelisted
Find a project pre-launch:
Finding the pre-launch of a project is the first step to getting whitelisted. This could be a brand new project or an existing one releasing a new collection. To find these projects you can search https://app.flolio.com/events. Another option would be to follow NFT influencers on social media.
Twitter is a great, active social media resource. Join and participate in their posts, twitter spaces, and communities.
You can also create a Twitter list, label it "NFT influencers" and add some of your favorite or most active accounts to your list. Pin the list to your Twitter feed to make it easier to switch between your feed and the list.
You will also want to take note of other people the NFT community is following and upcoming projects that get mentioned often.
Join the Discord Group:
Once you find a project you're interested in, it's highly suggested to join their Discord group. In the NFT world Discord is the main communication tool (followed by Twitter).
Each Discord will be organized differently, but you can normally find information on how to get whitelisted in the announcements section or just by researching the groups' information to see if a whitelist information browsing section is even an option. Asking other members or browsing the general section could provide insight as well.
As always, be leery of direct messages from random people and links. Scammers tend to occupy discords heavily.
Follow Instructions to Get Whitelisted
After you have done your research and you've settled on a project, you will want to go ahead and join the whitelist. Most NFT projects have requirements before you can join their whitelist:
You may be asked to fill out a simple Google form, invite others to the Discord, join a lottery system that picks addresses at random, replace your social media profile with the project's profile pic, interact with different communities or retweet a particular tweet.
Each project team has its unique requirements so do what you are comfortable with but be diligent.
NFT Whitelisting Red Flags
The fundamental characteristics of NFTs are that they are community-driven assets or projects, and their branding and marketing strategies are centered around spreading the word. You can win a place on their whitelist by following the previously addressed tasks but there could be some red flags to look out for.
Spamming social media followers:
Projects that require you to invite more than ten members to their discord server could be suspicious. A reasonable ask would be 5-8 people. You will have to reach out to several people before getting any to agree but be mindful of what's being required.
An unreasonable increase in social media followers:
Some NFT projects have been known to buy followers to appear popular. If you've ever come across an account with a huge following relative to when the account was created, this may be a sign to question the legitimacy or intention of the project.
A surprisingly high mint price:
An NFT mint price should be affordable enough that the majority of its community members can participate in its minting. If a project has a mint price overly exceeding the worth of the crypto assets it's traded in, this may be a red flag. High mint prices tend to undercut the power of the community so the project team will want to keep them reasonable to drive the success of the project.
To Conclude
NFT projects are being launched in record numbers, and the market is becoming saturated as a result. Because of this rush, transaction fees have spiked due to an increase in gas prices. Whitelisting has quickly become a solution to these common issues as well as created a community for supporters to be rewarded for being active and engaged.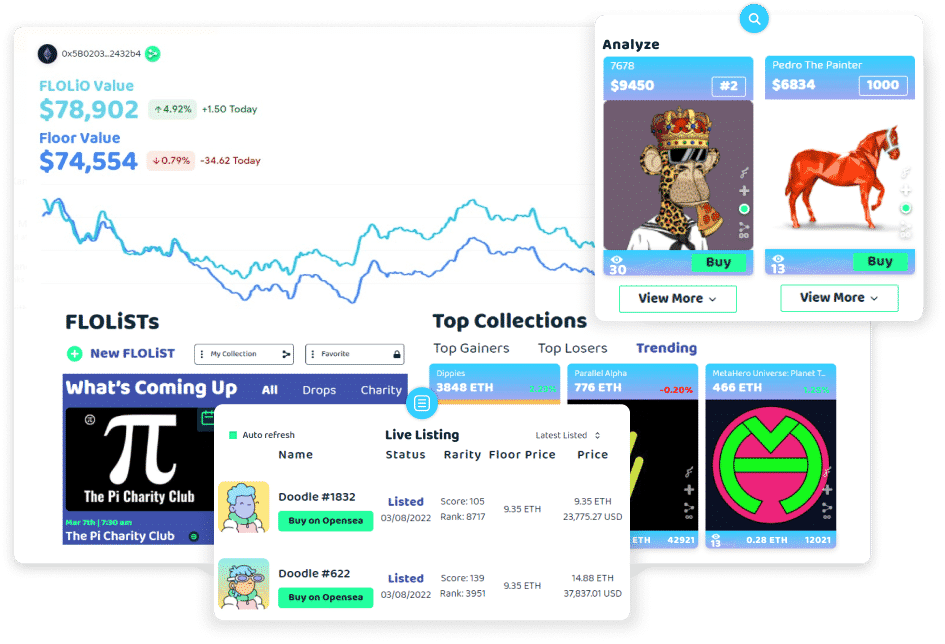 Wisdom within Web3
One place to manage all your digital assets
We combine data across marketplaces, metaverses, games & chains enabling communities to continue expanding the ecosystem.